On 13th April 2016, the Center for Private International Law of the Hague Conventions of the Law Faculty Niš had a great honor to welcome famous Greek Professor Spyridon Vrellis, Professor emeritus of the University in Athens and a former longstanding Director of the prestigious Hellenic Institute of International and Foreign Law in Athens.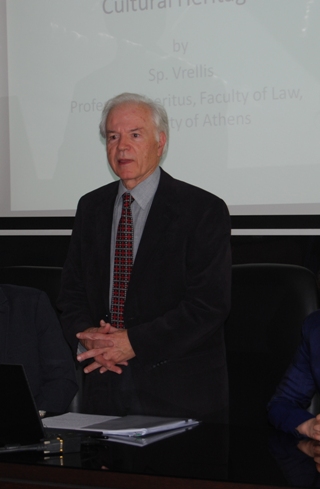 During his outstanding academic career, Professor Vrellis taught and lectured in a number of universities in Europe and elsewhere (Paris, Vienna, Budapest, Nicosia, Sofia, Strasburg etc.) and at the famous Hague Academy of International Law.
Furthermore, Professor Vrellis is the President of the Greek Committee of Private International Law and the Greek Section of the International Commission on Civil Status. He is also a member of the prestigious European Group on Private International Law; an associate member of the International Academy of Comparative Law; an executive member of the International Union of Jurists and member of various other institutions.
On this occasion, the students and the academic staff of our Faculty had a unique opportunity to attend Professor Vrellis' lecture on a very interesting topic Questions on the Protection of Cultural Heritage. The lecture was held on the premises of the Law Faculty in Niš.